Der Shop für Musical-Fans und Professionals.
Wir versenden Gänsehaut-Feeling in die ganze Welt.
CLOSER THAN EVER (2013 New Cast Recording) - 2CD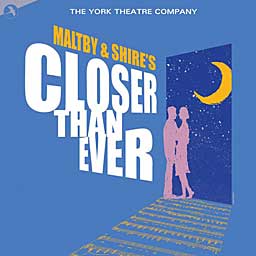 Kundenbewertung: -
Kategorie: Cast Recording, Musical CD
Sprache:

englisch
UPC/EAN: 605288142727
The York Theatre Company
Musik: David Shire
Text: Richard Maltby jr.
---
Songliste:
CD1:
Doors
She Loves Me Not
You Wanna Be My Friend
What Am I Doing?
The Bear, The Tiger, The Hamster And The Mole
I'll Get Up Tomorrow Morning
Miss Byrd
Transition
Dating Again
One Of The Good Guys
There's Nothing Like It
Life Story
Next Time / I Wouldn't Go Back

CD2:
Three Friends
Fandango
There
Transition 2
Patterns
There Is Something In A Wedding
Another Wedding Song
If I Sing
Back On Base
The March Of Time
Fathers Of Fathers
It's Never That Easy / I've Been Here Before
Closer Than Ever
---
Sie kennen diesen Artikel?
Sagen Sie uns Ihre Meinung darüber und geben Sie hier Ihre Bewertung ab. Sie helfen dadurch anderen Kunden.