Der Shop für Musical-Fans und Professionals.
Wir versenden Gänsehaut-Feeling in die ganze Welt.
HERE LIES LOVE (2014 Orig. Cast Recording) - 2CD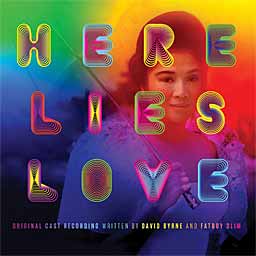 Kundenbewertung: -
Kategorie: Cast Recording, Musical CD
Sprache:

englisch
UPC/EAN: 0075597957617
Original Cast Recording
Musik & Text: David Byrne, Fatboy Slim
---
Songliste:

CD1:
American Troglodyte
Here Lies Love
Child Of The Philippines
Opposite Attraction
Rose Of Tacloban
A Perfect Hand
Eleven Days
When She Passed By
Sugartime Baby
Walk Like A Woman
Don't You Agree? / Pretty Face
Dancing Together
Fabulous One
Men Will Do Anything
CD2:
Star And Slave
Poor Me
Please Don't
Solano Avenue
Riots And Bombs
Order 1081
Seven Years
Gate 37
Just Ask Flowers
Why Don't You Love Me?
God Draws Straight
Here Lies Love (Curtain Call)

---
Sie kennen diesen Artikel?
Sagen Sie uns Ihre Meinung darüber und geben Sie hier Ihre Bewertung ab. Sie helfen dadurch anderen Kunden.