Der Shop für Musical-Fans und Professionals.
Wir versenden Gänsehaut-Feeling in die ganze Welt.
Disney On Broadway - Songbook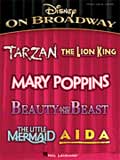 Kundenbewertung:

Kategorie: Songbuch
UPC/EAN: 9781423456247
ISBN: 1423456246
Seiten: 194
---
Songliste:

Anything Can Happen
Be Our Guest
Beauty And The Beast
Beyond My Wildest Dreams
Can You Feel The Love Tonight
A Change In Me
Circle Of Life
Different
Elaborate Lives
Human Again
I Want The Good Times Back
If I Can't Love Her
One Step Closer
Part Of Your World
Positoovity
Practically Perfect
Shadowland
Supercalifragilisticexpialidocious
They Live In You
Two Worlds
Written In The Stars
You'll Be In My Heart
---
Seiten: 194
gesetzt für: PVG
Sie kennen diesen Artikel?
Sagen Sie uns Ihre Meinung darüber und geben Sie hier Ihre Bewertung ab. Sie helfen dadurch anderen Kunden.
So denken andere über diesen Artikel:




(02.03.2009) Musicalfan aus Deutschland schreibt:
Ein gutes Songbook, wie ich finde. Die Klavierbegleitung ist bei manchen Stücken schon ein wenig anspruchsvoll (was ich persönlich gut finde), bei anderen spielt die rechte Hand leider nur die singstimme in einer anderen Oktave mit. Aber dieses Buch beinhaltet eine große Auswahl an Disneysongs.