Der Shop für Musical-Fans und Professionals.
ANNIE (2012 New Broadway Cast) - CD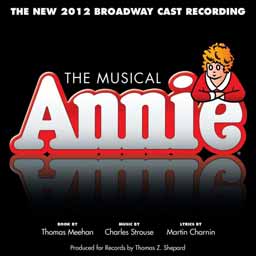 Kundenbewertung: -
Kategorie: Cast Recording, Musical CD
Sprache:

englisch
UPC/EAN: 826663142082
The New 2012 Broadway Cast Recording
Musik: Charles Strouse
Text: Martin Charnin
Buch: Thomas Meehan
Künstler:
Katie Finneran, Anthony Warlow, Lilla Crawford, Brynn O'Malley, Clarke Thorell, J. Elaine Mrcos...
---
Songliste:

Overture
Maybe
It's The Hard Knock Life
It's The Hard Knock Life (Reprise)
Tomorrow
We'd Like To Thank You Herbert Hoover
Little Girls
Little Girls (Reprise)
I Think I'm Gonna Like It Here
N.Y.C.
Easy Street
You Won't Be An Orphan For Long / Finale Act One
Entr'acte / Maybe (Reprise)
You're Never Fully Dressed Without A Smile
Easy Street (Reprise)
Tomorrow (Reprise)
Something Was Missing
Annie / We Got Annie
I Don't Need Anything But You
Maybe (Reprise)
A New Deal For Christmas
Bows

Bonus Tracks: (with Jane Lynch)
Little Girls
Little Girls (Reprise)
Easy Street
---
Sie kennen diesen Artikel?
Sagen Sie uns Ihre Meinung darüber und geben Sie hier Ihre Bewertung ab. Sie helfen dadurch anderen Kunden.
Unsere Kundenbewertungen werden ausschließlich über unser Kundenbewertungsformular generiert und repräsentieren nur die persönliche Meinung unserer Kunden bzw. der User unseres Shops. Einträge werden vor Veröffentlichung von unserer Redaktion geprüft und unabhängig ihrer Wertung veröffentlicht. Ob der User der Bewertung das Produkt wirklich gekauft hat, oder im Besitz davon ist, kann nicht in jedem Fall geprüft werden. Es gibt bei uns weder gekaufte noch in Auftrag gegebene Kundenbewertungen.