Der Shop für Musical-Fans und Professionals.
Wir versenden Gänsehaut-Feeling in die ganze Welt.
MYSTERY OF EDWIN DROOD (1986 Orig. Broadway Cast) - CD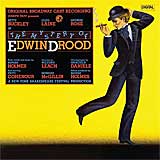 Kundenbewertung: -
Kategorie: Cast Recording, Musical CD
Sprache:

englisch
UPC/EAN: 602537150229
Original Broadway Cast Recording - New York Festival Prod.
Musik & Text: Rupert Holmes
Künstler:
Betty Buckley, Cleo Laine, George Rose, Patt Cohenour, Howard McGillin
---
Songliste:

There You Are
A Man Could Go Quite Mad
Two Kinsmen
Moonfall
Moonfall Quartet
Wages Of Sin
Ceylon
Both Sides Of The Coin
Perfect Strangers
No Good Can Come From Bad
Never The Luck
The Name Of Love / Moonfall (Reprise)
Setting Up The Score
Off To The Races
Don't Quit While You're Ahead
The Garden Path To Hell
Out On A Limerick
Jasper's Confession
Rosa's Confession
Puffer's Confession
The Writing On The Wall
---
Sie kennen diesen Artikel?
Sagen Sie uns Ihre Meinung darüber und geben Sie hier Ihre Bewertung ab. Sie helfen dadurch anderen Kunden.