Der Shop für Musical-Fans und Professionals.
Wir versenden Gänsehaut-Feeling in die ganze Welt.
ONCE UPON A MATTRESS (1960 Orig. London Cast) - CD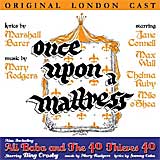 Kundenbewertung: -
Kategorie: Cast Recording, Musical CD
Sprache:

englisch
UPC/EAN: 5055122111597
plus Bonus Tracks
Musik: Mary Rodgers
Text: Marshall Barer
Künstler:
Jane Connell, Max Wall, Thelma Ruby, Milo O'Shea
---
Songliste:
ONCE UPON A MATTRESS

Overture / Many Moons Ago
An Opening For A Princess
In A Little While
Shy
Sensitivity
The Swamps Of Home
Normandy
Spanish Panic
Song Of Love
Happily Ever After
Man To Man Talk
Very Soft Shoes
Yesterday I Loved You
Finale

ALI BABA AND THE 40 THIEVES 40

A Long Time Ago In Persia
Year In, Year Out
Ali Baba Always Hoped / My Own Individual Star (Narration)
40 Thieves 40 (Chorus)
Open Sesame
My Own Individual Star
Well Now, Ali Baba's Brother, Kassim (Narration)
One Rich Brother
Open Sesame! Kassim Was Trapped! (Narration)
One Of Us Is A Thief (Chorus)
I Love You Whoever You Are
One Rich Brother
They All Lived Happily Ever After
---
Sie kennen diesen Artikel?
Sagen Sie uns Ihre Meinung darüber und geben Sie hier Ihre Bewertung ab. Sie helfen dadurch anderen Kunden.