Der Shop für Musical-Fans und Professionals.
Wir versenden Gänsehaut-Feeling in die ganze Welt.
OH CALCUTTA! (1969 Orig. Cast Recording) - CD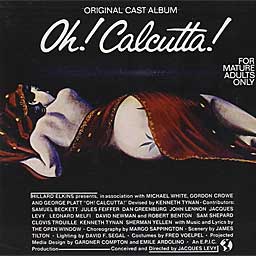 Kundenbewertung: -
Kategorie: Cast Recording, Musical CD
Sprache:

englisch
UPC/EAN: 021471903522
Label: DRG
Musik & Text: The Open Window
Buch: Kenneth Tynan
---
Songliste:

Oh, Calcutta!
Dick & Jane
Sincere Replies
Coming Together, Going Together
Don't Have A Song To Sing
I'm An Actor
Ballerina
I Want It
Freeze Music
I Want It
Clarence & Mildred (One On One)
Oh! Calcutta!
Much Too Soon
Green Pants
Jack & Jill
Suite For Five Letters
Exchanges Of Information
I Like The Look
---
Sie kennen diesen Artikel?
Sagen Sie uns Ihre Meinung darüber und geben Sie hier Ihre Bewertung ab. Sie helfen dadurch anderen Kunden.