Der Shop für Musical-Fans und Professionals.
Wir versenden Gänsehaut-Feeling in die ganze Welt.
WILL ROGERS FOLLIES (1991 Orig. Broadway Cast) - CD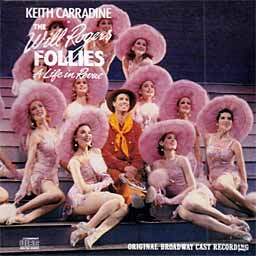 Kundenbewertung: -
Kategorie: Cast Recording, Musical CD
Sprache:

englisch
UPC/EAN: 886972436722
DDD, A Life in Revue
Musik: Cy Coleman
Text: Betty Comden, Adolph Green
Buch: Peter Stone
Künstler:
Keith Carradine, Dee Hoty, Dick Latessa, Cady Huffman, Vince Bruce...
---
Songliste:

Let's Go Flying
Will-A-Mania
Never Met A Man I Didn't Like (short version)
Give A Man Enough Rope
It's A Boy
So Long Pa
My Unknown Someone
Wild West Show / Dog Act
We're Heading For A Wedding
The Big Time
My Big Mistake
The Ziegfeld Follies (My Big Mistake)
Marry Me Now / I Got You / Finale Act 1
Entr'acte / Give A Man Enough Rope / Rope Act
Look Around
Our Favorite Son
No Man Left For Me
Presents for Mrs. Rogers
Will-A-Mania (Reprise) / Without You
Never Met A Man I Didn't Like
---
Sie kennen diesen Artikel?
Sagen Sie uns Ihre Meinung darüber und geben Sie hier Ihre Bewertung ab. Sie helfen dadurch anderen Kunden.