Der Shop für Musical-Fans und Professionals.
Wir versenden Gänsehaut-Feeling in die ganze Welt.
CHILDREN'S LETTERS TO GOD (2004 Orig. Cast) - CD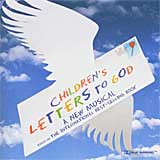 Kundenbewertung: -
Kategorie: Cast Recording, Musical CD
Sprache:

englisch
UPC/EAN: 605288138522
Label: Jay
A New Musical
Künstler:
Gerard Canonico, Jimmy Dieffenbach, Libbie Jacobson, Sara Kapner, Andrew Zutty...
---
Songliste:

Opening
Questions Questions
Thirteen
Arnold
Like Everybody Else
Questions For The Rain
Ants
A Simple Holiday Song
Six Hours As A Princess
An Only Child
When I Am In Charge
Day Dream
Kicker Brown
Silly Old Hat
How Come?
I Know
I Know (Reprise)
Joanna's Lament
---
Sie kennen diesen Artikel?
Sagen Sie uns Ihre Meinung darüber und geben Sie hier Ihre Bewertung ab. Sie helfen dadurch anderen Kunden.