Der Shop für Musical-Fans und Professionals.
Wir versenden Gänsehaut-Feeling in die ganze Welt.
SUMMER SONG (1956 Orig. London Cast) - CD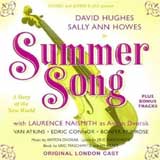 Kundenbewertung: -
Kategorie: Cast Recording, Musical CD
Sprache:

englisch
UPC/EAN: 5055122110866
Label: Sepia
A Story of the New World
Musik: Anton Dvorak
Text: Eric Maschwitz
Buch: Eric Maschwitz, Hy Kraft
Künstler:
Sally Ann Howes, David Hughes, Edric Connor...
---
Songliste:

Overture / I Loved My Love
Just Around The Corner
My Darling Karolka
Once A Year Is Not Enough
Be She Dark, Be She Fair
Cotton Tail
No-One Told Me
Sing Me A Song
Murphy's Pig
Saturday Girl
One Boy Sends You A Rose
Dvorak's Letter Home
Deep Blue Evening
Milli's Wedding
Summer Song
Small Town Sweetheart
New York '93
I'll Be Remembering
Finale

Bonus Tracks
Summer Song Selection
Carry Me Back To Old Virginny
If I Can Help Somebody
There, But For The Grace Of God, Go I
Love Is A Many Splendoured Thing
Two Different Worlds
---
Sie kennen diesen Artikel?
Sagen Sie uns Ihre Meinung darüber und geben Sie hier Ihre Bewertung ab. Sie helfen dadurch anderen Kunden.