Der Shop für Musical-Fans und Professionals.
Wir versenden Gänsehaut-Feeling in die ganze Welt.
Playback! LES MISERABLES (4 CD Set) - 4CD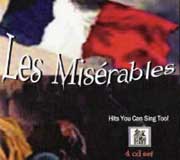 Kundenbewertung:

Kategorie: Playbacks
UPC/EAN: 646376050326

nicht mehr lieferbar
inkl. Text-Booklet
---
Songliste:
CD1
Prologue (Chain Gang) / Work Song [ 3:48, Ebm ]
What Have I Done? [ 3:27, Eb-F
At The End Of The Day [ 4:47, Fm ]
I Dreamed A Dream [ 4:03, Ab-Eb ]
Lovely Ladies [ 2:07, F ]
Who Am I? [ 2:32, Bb ]
Come To Me (Fantine's Death) [ 3:05, Abm-F ]
Confrontation [ 2:24, Ab ]
Castle On A Cloud [ 2:01, Am ]
Master Of The House [ 4:53, Fm ]
The Thenardier Waltz of Treachery [ 2:46, Am ]
Look Down (Beggars) [ 1:11, Am ]
Stars [ 3:17, Db )
The ABC Cafe - Red And Black [ 4:15, Fm ]

CD2
Do You Hear The People Sing? [ 2:03, E ]
In My Life [ 4:22, A ]
A Heart Full Of Love [ 2:38, F ]
One Day More [ 3:33, D ]
On My Own [ 4:08, D ]
Little People [ 1:01, A ]
A Little Fall Of Rain [ 3:25, Gm ]
Drink With Me [ 2:17, C ]
Bring Him Home [ 3:01, Ab ]
Javert's Suicide [ 3:24, F ]
Turning [ 2:08, A ]
Empty Chairs At Empty Tables [ 2:48, Fm ]
Finale [ 4:22, F ]
---
ebenso aus dieser Serie:

THE LION KING (Broadway)

MAMMA MIA (Broadway)

Sondheim Solos: Female Selections

WICKED

FIDDLER ON THE ROOF (Broadway)

BEAUTY AND THE BEAST (Broadway)

WEST SIDE STORY (Broadway)

Sondheim Solos: Male Selections

GREASE (Broadway)

LITTLE SHOP OF HORRORS (Broadway)

HOW TO SUCCEED IN BUSINESS ... (Broadway)

PHANTOM OF THE OPERA (Broadway)

SEUSSICAL (Broadway)

BYE BYE BIRDIE

YOU'RE A GOOD MAN CHARLIE BROWN (Broadway)

SPELLING BEE (Broadway)

COMPANY (Broadway)

PIPPIN (STS)

DAMN YANKEES (Broadway)

CATS

OKLAHOMA (Broadway)

WIZARD OF OZ

SOUTH PACIFIC (Broadway)

KISS ME KATE (Broadway)

URINETOWN (Broadway)

LEGALLY BLONDE (Broadway)

Gilbert & Sullivan Vol. 1

SPAMALOT (Broadway)

Gilbert & Sullivan Vol. 2

SOUND OF MUSIC (Broadway)

AVENUE Q (Broadway)

JOSEPH & THE AMAZING TECHNICOLOR DREAMCOAT

JESUS CHRIST SUPERSTAR (Broadway)

SPRING AWAKENING

SWEENEY TODD (Broadway)

HAIRSPRAY (Broadway)

THE FANTASTICKS

A CHORUS LINE

ANNIE

LITTLE MERMAID (Broadway)

DREAMGIRLS (Broadway)

CHICAGO (Broadway)

FUNNY GIRL (Broadway)

GUYS AND DOLLS (Broadway)

THE KING AND I (Broadway)

RENT (Broadway)

INTO THE WOODS

GODSPELL (Broadway)

LA CAGE AUX FOLLES (Broadway)

MAN OF LA MANCHA (Broadway)
Sie kennen diesen Artikel?
Sagen Sie uns Ihre Meinung darüber und geben Sie hier Ihre Bewertung ab. Sie helfen dadurch anderen Kunden.
So denken andere über diesen Artikel:





(10.10.2006) Musicalfan aus USA, Michigan,west bloomfield schreibt:
ich liebe lied nr.4!


(20.07.2006) Musicalfan aus Weimar schreibt:
Schlechte Qualität. Es gibt derzeit jedoch nur einen einzigen Anbieter, der bessere Files hat - jedoch teurer...


(20.04.2005) Musicalfan aus wob schreibt:
leider alles midi, keine ueberragende qualitaet



(07.07.2004) Musicalfan aus Heilbronn schreibt:
Umfangreiche Sammlung des Musicals. Leider hören sich viele Stücke extrem nach Midis an. Doch solange nichts Besseres auf dem Markt verfügbar ist, sind diese Playbacks durchaus brauchbar.