Der Shop für Musical-Fans und Professionals.
Wir versenden Gänsehaut-Feeling in die ganze Welt.
Playback! JESUS CHRIST SUPERSTAR (Broadway) - 2CD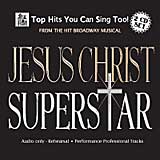 Kundenbewertung: -
Kategorie: Playbacks
UPC/EAN: 646376050227

zur Zeit nicht lieferbar
2 CD-Set - Playbacks from the Hit Broadway Musical
---
Songliste:
CD1: Guide Vocals
Heaven On Their Minds
What's the Buzz / Strange Thing Mystifying
Everything's Alright
Hosanna
Simon Zealotes
Pilate's Dream
I Don't Know How To Love Him
The Last Supper
Gethsemane
King Herod's Song
Could We Start Again Please?
Superstar
CD2: Background Tracks
Heaven On Their Minds [ 4:56, Dm]
What's The Buzz / Strange Thing Mystifying [ 4:13, Am ]
Everything's Alright [ 3:45, E ]
Hosanna [ 1:51, G ]
Simon Zealotes [ 3:23, Gm ]
Pilate's Dream [ 1:25, Bbm ]
I Don't Know How To Love Him [ 3:20, D ]
The Last Supper [ 4:50, G ]
Gethsemane [ 5:00, Bbm ]
King Herod's Song [ 3:04, Gb ]
Could We Start Again Please? [ 2:35, D ]
Superstar [ 3:34, C ]
---
ebenso aus dieser Serie:

THE LION KING (Broadway)

WICKED

LITTLE SHOP OF HORRORS (Broadway)

MAMMA MIA (Broadway)

MAN OF LA MANCHA (Broadway)

CATS

SOUND OF MUSIC (Broadway)

FUNNY GIRL (Broadway)

LES MISERABLES (4 CD Set)

Sondheim Solos: Male Selections

DREAMGIRLS (Broadway)

ANNIE

Sondheim Solos: Female Selections

THE FANTASTICKS

YOU'RE A GOOD MAN CHARLIE BROWN (Broadway)

SEUSSICAL (Broadway)

PHANTOM OF THE OPERA (Broadway)

LITTLE MERMAID (Broadway)

SPAMALOT (Broadway)

GUYS AND DOLLS (Broadway)

RENT (Broadway)

BEAUTY AND THE BEAST (Broadway)

COMPANY (Broadway)

LA CAGE AUX FOLLES (Broadway)

GREASE (Broadway)

WEST SIDE STORY (Broadway)

JOSEPH & THE AMAZING TECHNICOLOR DREAMCOAT

PIPPIN (STS)

INTO THE WOODS

SWEENEY TODD (Broadway)

THE KING AND I (Broadway)

HAIRSPRAY (Broadway)

A CHORUS LINE

Gilbert & Sullivan Vol. 2

AVENUE Q (Broadway)

OKLAHOMA (Broadway)

DAMN YANKEES (Broadway)

URINETOWN (Broadway)

FIDDLER ON THE ROOF (Broadway)

HOW TO SUCCEED IN BUSINESS ... (Broadway)

CHICAGO (Broadway)

WIZARD OF OZ

SOUTH PACIFIC (Broadway)

GODSPELL (Broadway)

Gilbert & Sullivan Vol. 1

BYE BYE BIRDIE

SPRING AWAKENING

LEGALLY BLONDE (Broadway)

SPELLING BEE (Broadway)

KISS ME KATE (Broadway)
Sie kennen diesen Artikel?
Sagen Sie uns Ihre Meinung darüber und geben Sie hier Ihre Bewertung ab. Sie helfen dadurch anderen Kunden.
Unsere Kundenbewertungen werden ausschließlich über unser Kundenbewertungsformular generiert und repräsentieren nur die persönliche Meinung unserer Kunden bzw. der User unseres Shops. Einträge werden vor Veröffentlichung von unserer Redaktion geprüft und unabhängig ihrer Wertung veröffentlicht. Ob der User der Bewertung das Produkt wirklich gekauft hat, oder im Besitz davon ist, kann nicht in jedem Fall geprüft werden. Es gibt bei uns weder gekaufte noch in Auftrag gegebene Kundenbewertungen.