Der Shop für Musical-Fans und Professionals.
Wir versenden Gänsehaut-Feeling in die ganze Welt.
THE WIZ (1978 Orig. Soundtrack) - 2CD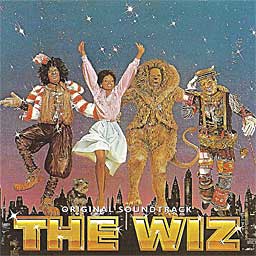 Kundenbewertung: -
Kategorie: Cast Recording, Musical CD
Sprache:

englisch
UPC/EAN: 008811164928
Original Soundtrack
Künstler:
Diana Ross, Michael Jackson, Nipsey Russell, Richard Pryor, Ted Ross...
---
Songliste:
CD1:
Main Title (Overture, Part I)
Overture (Part II)
The Feeling That We Have
Can I Go On?
Glinda's Theme
He's The Wizard
Soon As I Get Home / Home
You Can't Win
Ease On Down The Road #1
What Would I Do If I Could Feel?
Slide Some Oil To Me
Ease on Down The Road #2
(I'm A) Mean Ole Lion
Ease On Down The Road #3
Poppy Girls

CD2:
Be A Lion
End Of The Yellow Brick Road
Emerald City Sequence
So You Wanted To See The Wizard
Is This What Feeling Gets? (Dorothy's Theme)
Don't Nobody Bring Me No Bad News
A Brand New Day
Believe In Yourself (Dorothy)
The Good Witch Glinda
Believe In Yourself (Reprise)
Home
---
Sie kennen diesen Artikel?
Sagen Sie uns Ihre Meinung darüber und geben Sie hier Ihre Bewertung ab. Sie helfen dadurch anderen Kunden.