Der Shop für Musical-Fans und Professionals.
Wir versenden Gänsehaut-Feeling in die ganze Welt.
CINDY-ELLA (1962 Orig. Cast Recording) - CD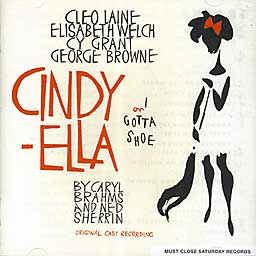 Kundenbewertung: -
Kategorie: Cast Recording, Musical CD
Sprache:

englisch
UPC/EAN: 5026107030363
Cindy-Ella or 'I Gotta Shoe' - Special Import
Musik & Text: Caryl Brahms, Ned Sherrin
Künstler:
Cleo Lane, Elisabeth Welch, Cy Grant, George Browne...
---
Songliste:

I Gotta Shoe
Troubles of the World
Motherless Child
Shine Shine Shoe
Il Ellas, Play on Yo' Harp
Round Like a Melon, Sweet Like a Peach
You Ain't a Gonna Sit and Yo' Ease
Go 'Way F'om Ma Window
Man No Good for Nothin'
Nobody Knows the Trouble I've Seen
You're Worried Now
You Gotta Look Disdainful
Stranger
Git Along Home, Cindy, Cindy
High Summer Day
Look on Me With a Loving Eye
There's a Man Goin' Roun' Givin' Cards
Raise a Ruckus
Plenty Good Room
Bring a Little Pumpkin, Cindy
Cindy-Ella
Swing Low, Sweet Chariot
Nobody's Business
Oh The First Time
Look On Me With A Loving Eye (Reprise)
De Midnight Special
Let Me Hold Your Hand
Hush-A-Bye
I Gotta Shoe (Reprise)
Stranger (Reprise)
Hush-A-Bye (Reprise)
---
Sie kennen diesen Artikel?
Sagen Sie uns Ihre Meinung darüber und geben Sie hier Ihre Bewertung ab. Sie helfen dadurch anderen Kunden.