Der Shop für Musical-Fans und Professionals.
LES MISERABLES (2013 Soundtrack) Deluxe - 2CD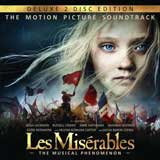 Kundenbewertung: -
Kategorie: Cast Recording, Musical CD
Sprache:

englisch
UPC/EAN: 602537333394

nicht mehr lieferbar
Motion Picture Soundtrack - Limited Deluxe Edition
Musik: Claude Michel Schönberg
Text: Alain Boublil, Herbert Kretzmer
Künstler:
Hugh Jackman, Russell Crowe, Anne Hathaway, Amanda Seyfried, Eddie Redmayne, Helena Bonham Carter, Sacha Baron Cohen
---
Songliste:
CD1:
Look down
The Bishop
Valjean's Soliloquy
At The End Of The Day
The Docks
I Dreamed A Dream
Fantine's Arrest
Who Am I?
Fantine's Death
The Confrontation
Castle On A Cloud
Master Of The House
The Bargain
Suddenly
The Convent
Stars
Paris Look Down
The Robbery
ABC Cafe - Red & Black
In My Life
A Heart Full Of Love
On My Own
One Day More

CD2:
Do You Hear The People Sing
Building The Barricade
Javert At The Barricade
The First Attack
A Little Fall Of Rain
Drink With Me
Bring Him Home
Death Of Gavroche
The Final Battle
The Sewers
Javert's Suicide
Turning
Empty Chairs At Empty Tables
A Heart Full Of Love (Reprise)
Valjean's Confession
Suddenly (Reprise)
The Wedding
Beggars At The Feast
Epilogue
---
Sie kennen diesen Artikel?
Sagen Sie uns Ihre Meinung darüber und geben Sie hier Ihre Bewertung ab. Sie helfen dadurch anderen Kunden.
Unsere Kundenbewertungen werden ausschließlich über unser Kundenbewertungsformular generiert und repräsentieren nur die persönliche Meinung unserer Kunden bzw. der User unseres Shops. Einträge werden vor Veröffentlichung von unserer Redaktion geprüft und unabhängig ihrer Wertung veröffentlicht. Ob der User der Bewertung das Produkt wirklich gekauft hat, oder im Besitz davon ist, kann nicht in jedem Fall geprüft werden. Es gibt bei uns weder gekaufte noch in Auftrag gegebene Kundenbewertungen.